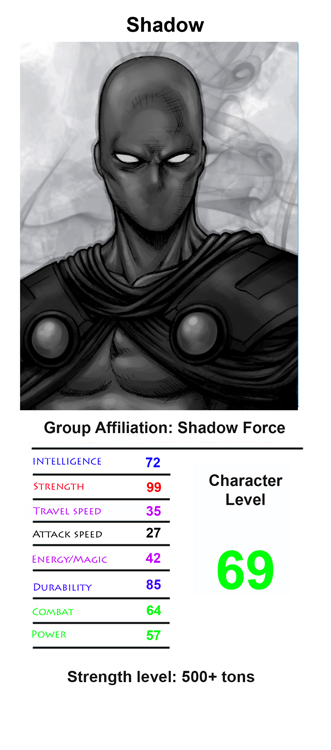 Created by: Lawrenz Lano

First appearance: None yet.

Other picture: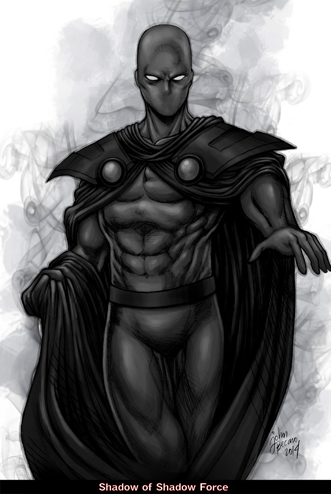 © 2013 Gaia Force by Lawrenz Lano
Real Name: Adrian Negrescu
Hair: Unknown
Eyes: Unknown
Height: 5 foot 9 inches
Age: 37
Born in: Romania
Occupation: Homicide detective
Base of operations:

Bucharest, Romania


Classification:

Enhanced Human



Ethical alliance: Good


History

Before he became Shadow, Adrian was a homicide detective on the trail of a murdering satanic cult. When the cult managed to open a portal to the Hell dimension, Avatar Prime arrived to deal with the situation. He offered the detective a chance to dispose of the cultists while he sealed the portal.

Aware that nether threats were a major concern for Gaia, Avatar Prime told Adrian that he was going to set up a force to deal with this problem and wanted Adrian to lead it. Adrian agreed but also wanted to continue working as a detective. He had many open cases that he wanted to solve before he gave his all to this new force. Avatar Prime accepted the offer but reminded him that the security of Gaia was paramount and took precedence over any other matter.

Avatar Prime considered his new recruit. Adrian's hard as rock attitude to do what was right coupled with his desire to change the world around him. His fleet-footedness. The fact that he had been living in the shadows, had made a life out of shadowing people and that he would also be working to fight the shadows that would swallow Gaia's light, Avatar Prime endowed him with abilities that embodied these aspects of him. And since the team would be his to lead, named it after him

.




Powers

Density control: He can control the density of his body or

any object by shifting their mass out of this dimension. The objects retain their appearance but weigh nothing.



Indestructibillity: Conversely, he can make his body virtually indestructible by giving it more mass. Since that mass is transferred to his whole being, it makes his body stronger and the increased mass does not slow him down.

Intangibility:

Through density control, he can make his body ephemeral

.

Phasing: Can solidify himself or objects within others.

Gliding: Through density control, he can make his body glide by combining floating and falling.

Power lift: His denser muscles are capable of lifting objects weighing a few tons, but by decreasing the density of objects, he can lift pretty much anything.


Limitations: Although he can become intangible like a ghost or spectre, his density control has little effect on them. Because of this short-coming, the ability to deal with the intangible has been given to Wraith.


Paraphernalia: Carries two kali sticks for melée attacks, which he phases through his opponents.